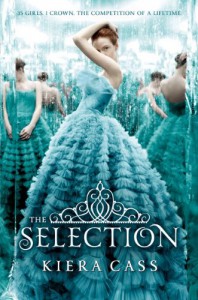 This review is full of
spoilers
.
This was another one of those start out rocky books. I almost put it down for a while but then decided to finish it and I am so very glad that I did! I thought, initially, it was going to be another cliche book about a girl who doesn't know how pretty she is, while forcing it down your throat that she is. That, and I'm not a huge fan of America as a name. I am happy to report that it was not one of those books, and the name was not an issue.
This book is set in a dystipian America after world war 4, and a Chinese invasion due to debts. The countries of the world had consolidated into a few large countries rather than so many small ones. Instead of a president, Illea (the country that most of North America has been reformed into) has a royal family. When the heir to the throne comes of age, girls are sold into political alliances, and boys must pick one common girl from the selection, where 34 girls all compete for the prince's favor while navigating eliminations,group and solo dates, and the royal palace. Think fluffy Hunger Games meets The Bachelor.
I really enjoyed the relationship between America and Maxon, as well as hearing about how the society works. The caste system was particularly interesting to me, and was a focal point of this book. I liked that America did not just fall into the role of perspective princess. She always seemed to remember her place as a 5.
Overall I really enjoyed this book, a lot more than I expected to. I would most definitely recommend this book to anyone who enjoys political dystopian stories, especially those about royal life, and people who enjoy reality shows like the Bachelor or the Bachelorette.